To set up day-after rules in calendar-year schedules, click on a shift or service heading to bring up the Infobox and select Day-after rules... (in resident schedules, go to Window → Day-after rules).
There are two rule types: On rules ("must") and Off rules ("must not"). You may set both kinds of rules for each shift or service.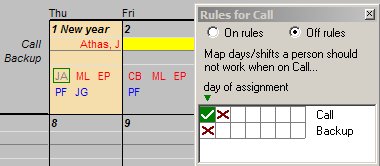 In this example, if a staff member is on call on a particular day, he/she can't be on "Backup" on the same day and can't serve the same call the next day. Amion will make "Athas, J" unavailable for the shifts marked X.